A DURABLE CONTROL SYSTEM WITH CLEAR VISUALISATION
IFF GATE
Your fish farm under constant supervision from anywhere
Whether you use 2 or 200 sensors at your fish farm, the IFF Gate system will provide a secure connection and supervision at any time and from anywhere. The IFF Gate collects measured data from the IFF Controllers. This data is automatically archived and sent to cloud storage by internet connection.
Local and remote viewing of current data
The stored data can be comfortably viewed by operators on a 7-inch display located on the IFF Gate. The data is also available by web browser from a cloud, where a secure account has been created. You can use the IFF Gate to easily use remote dispatch, management and analysis of saved data, and also to control all connected systems independently of their location.
Monitoring for safe transport of live fish
The IFF Gate is equipped with a WAN cable connection and two 4G/LTE slots. This means that the system is easily installed onto a tank and you can see the transport status on-line, exactly like on the farm, for instance from your home or from the driver's cabin. You will always deliver your cargo in order and without losses, because you will be able to act quickly if needed.
Download datasheet
Start your automation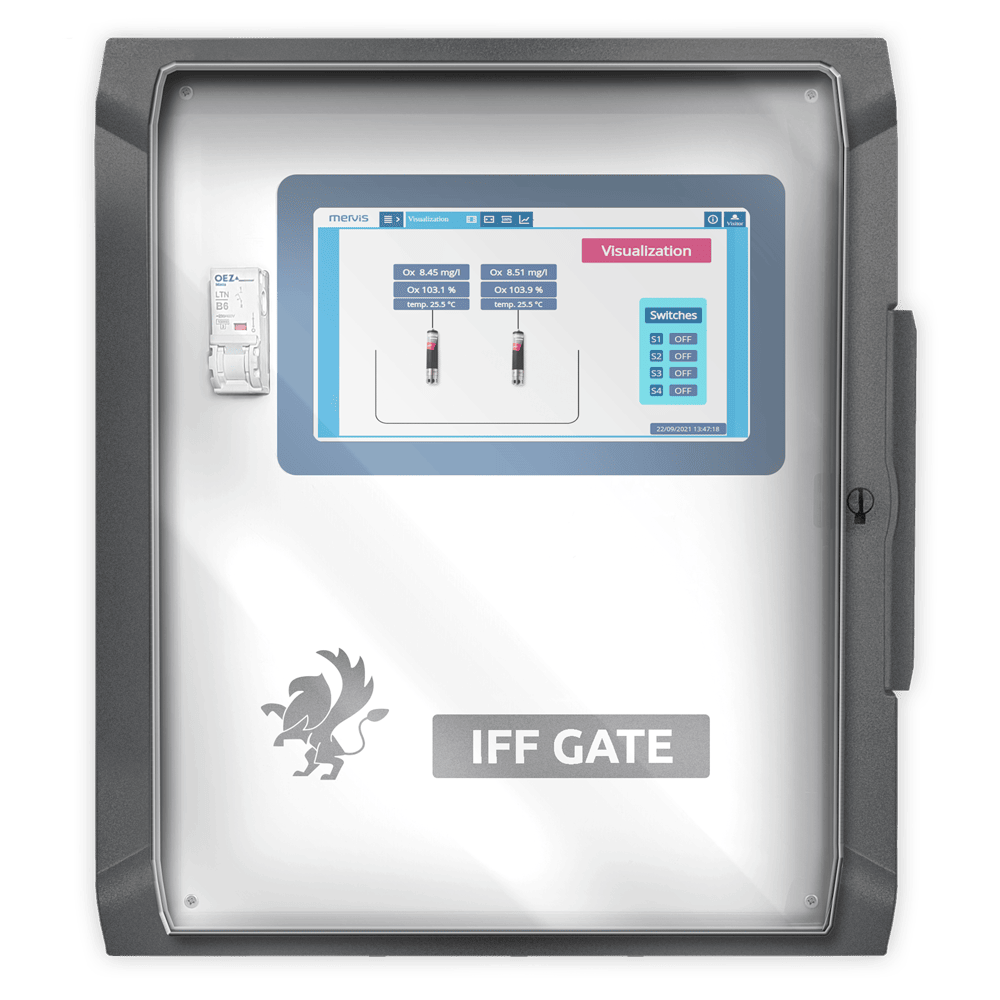 Case study
IFF installation at
a Lobster farm, Selsey UK
We achieved several firsts thanks to the installation of the IFF System in Selsey. Not only was it the first commercial installation in the UK, but it was also our first collaborative project with Oxysystems Ltd.
Read full case study
Basic technical parameters
Number of connected IFF Controllers
1 ÷ 10
Connection of IFF Controllers
shielded cable, total cable length must be max. 1000 m
Power supply
90 ÷ 250 V AC
Data storage Interval (depends on configuration)
1 ÷ 10 min
Display
7 " Colour TFT, touch panel
Operating temperature range
-5 ÷ 50 °C
Storage temperature range
-20 ÷ 70 °C
Dimensions
324 x 289 x 146 mm
Dimensions (box)
520 x 450 x 220 mm
Weight
cca 8 kg
Structure