B2B partner program (TYPE A)
IFFMAN is a product line, combined with a web-based configurator, where you can define and order the aquaculture automation solution either as a complete system or its particular elements.

Whether you are an automation expert, a freelance consultant or a recent graduate looking to start a business. It always pays off to deal with premium technology partner. B2B program will grant you direct access to support and maximize your profit.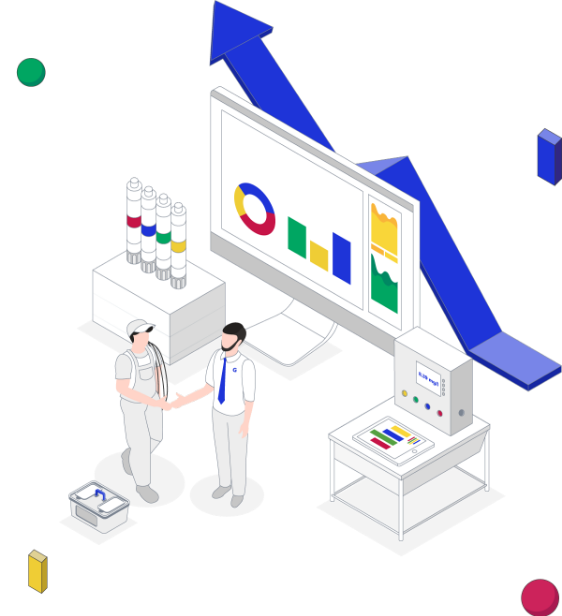 Turn your contacts into contracts
Join our partner program B2B
How the cooperation works
You identify clients and create the automation design with - or on behalf of them. Our field engineer reviews the design and eventually contacts you for consultation. The system is manufactured and set to work right out of the box: From the probes with anchoring, over the PLC's and switchboards up to the control system. You help with the deployment of the system and receive the commission.
Why would you join us?
We're a decades-proven supplier of premium measuring devices. Because we are also the original manufacturer of all the components, thus skipping the entire supply chain and its usual commissions, we can offer a lot.
How will we evaluate your work?
As the customer experience is what matters the most for us, a part of your commission depends on feedback from the customer, who will reward you with 0-5 stars (explained below). Upon bad customer references, we may reject any further cooperation.
Commission system summary:
5% of the contract value is your guaranteed part of the commission. For each star of the customer's feedback you receive an additional 2% (up to a total 10% as maximum). We add an extra 5%, if the installation will create a "story of the month" (on-site interview with the customer, photo/video shooting done by us).
for better explanation
Model case
1. Order phase
Assume you identified a customer who would be interested in farm automation. Upon the quote, the customer will agree and order the IFF system in the value of €20.000 (a fairly small farm). At this point, you are entitled to claim your 5% commission (€1.000).
2. Delivery phase
From experience: The deployment is quite simple and won't cost more than a day, even for an untrained person (all the parts arrive as already pre-set and connected). Therefore, you can be sure that the customer will mostly evaluate your communication skills - in a monitored call with our aftersales consultant. The customer will give you maximum feedback. At this point, you are entitled to claim your 10% reward (€3.000).
3. Aftersales care phase
Approximately a month after the acceptance, we'll contact the customer again and ask for the overall experience. If the installation is suitable and the customer opened to it, we come to shoot video footage for further marketing use. At this point, you are entitled to claim your 5% extra bonus (€1.000).
4. Summary
For the right customer identification, on-site analysis (2 hours), designing the automation (1 hour), communication with the client, and deployment assistance (1 day), you: Earned €5.000;
Got rid of the majority of electrician work, as all the switchboards are part of the delivery;
Acquired a customer for future business (3rd party appliances, consumables, services...);
Gained our respect and further marketing support: Upon a good customer reference, we'll be presenting you as a local partner for any aquaculture automation projects.
This, "TYPE A" B2B program is only available in selected countries, along with other ongoing marketing campaigns.
Postanite naš


Partner

Pomagali vam bomo dobiti točno tisto, kar potrebujete. Izpolnite ta obrazec, mi pa bomo poskrbeli za vse ostalo. Strokovnjak vas bo kontaktiral najkasneje v roku dveh dni.
IFFMan je blagovna znamka GRYF HB, spol. s r.o., ki je družinsko podjetje na Češkem. Vse komponente IFF so zasnovane, razvite in proizvedene na Češkem.

GRYF HB, spol. s r. o.
Čechova 314, 58001 Havlíčkův Brod, Czech Republic
VAT ID: CZ25280147
Informacije